Ford Service Near Jacksboro, Graham, Bridgeport, Bowie and Henrietta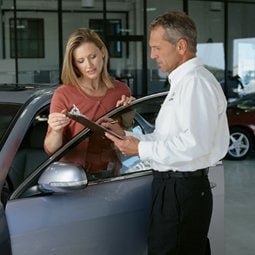 We know how important your vehicle is. Whether you use it for professional purposes, or if it is your means of transportation for day-to-day activities, it is vital that your vehicle remains in top shape. We want to help you in any way we can. That is why so many of our customers trust our dedicated, professional service technicians. Experts in the field, and trained extensively, our service team will ensure your vehicle is taken care of with precision, delicacy, and care.
The Importance of Maintenance
Routine maintenance is the best way to make sure your vehicle remains healthy, and road-ready. Maintenance involves many different things, from oil changes, to tire rotations, and much more. Regardless of what you need serviced, though, our team will ensure that you are helped swiftly, and efficiently.
Coming to our service center for maintenance is important in ensuring your vehicle's longevity. When you bring your car in to us, we can check underneath the hood. If we see anything amiss, we can address the problem immediately. If we do not, we can give your vehicle a clean bill of health and return you to the road. However, if you do not bring your vehicle in, there is a chance that the small issue underneath the hood, which we were not able to spot, could blossom into a much larger, much more expensive issue. We, of course, would help you with this concern, but it would be more time extensive, and more cost extensive, than the maintenance would have been.
Need to Schedule Some Time?
If you would like to schedule some time to come in to our service department, we invite you to visit us at Four Stars Ford in Jacksboro, TX. Our team would be happy to take a look underneath the hood, and help you with any of your automotive needs.
We serve drivers throughout Jacksboro, Graham, TX; Bridgeport, TX; Bowie, TX; and Henrietta, TX.