Four Stars Ford is Your Jacksboro Ford Parts Supplier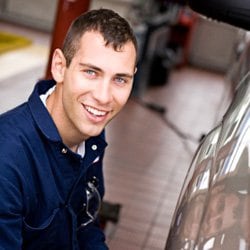 If you're in the market for some Ford Parts in Jacksboro, then stop by the Four Stars Ford Parts Center. We stock a huge variety of authentic Ford parts and can order even more that we don't have on hand. Our customers love our quick, friendly service that helps them get back on the road or finish up projects as soon as possible. Finding the right part can be a tough challenge on your own, but when you work with our parts experts, you'll find it a fast and fun experience.
We know that our customers are our most valuable resource, so we treat you with the respect you deserve. Our professionals across all of our automotive departments work hard to make sure you enjoy your experience at Four Stars Ford, whether you're buying a new car or ordering a new set of tires.
Our Parts Center
Located just a short drive from Bridgeport, we are one of the premier auto parts shops in the area. Staffed by Ford parts experts, we give you the experience you need to find the part that you're looking for. We provide all sorts of parts like brake pads, spark plugs, batteries, shocks and struts, brake discs, and so much more. If you don't know which car part you need, don't hesitate to ask us for help, our service professionals can easily identify the problem and refer us to the auto part you need to buy.
Order Online
If you already know what Ford car part you need, then just use our intuitive online order form. Simply fill out the make/model of your vehicle and then the auto part number; we will contact you as soon as we confirm your order and find the part. Feel free to choose your preferred method of contact so we can reach you in the most convenient way possible.
If you don't want to do business over the computer, we encourage you to stop by our Bowie area dealership in person and talk to one of our auto parts experts. We will be glad to help you find the Ford auto parts you need to keep your vehicle running near Henrietta.
Why Use Real Parts?
Some dealerships will try to sell you cheap, knock-off parts under the guise that they're saving you money, but really they're doing anything but. Ford parts are tailor-made to optimize your vehicle's performance, and to use an off-brand part in a repair is likely to make your car operate less efficiently, if not exacerbate the problem even more.
Buying the right part the first time around will probably save you money in the long run, and we give our Henrietta customers such great, every-day deals that it hardly makes a difference anyway.
Our Ford Service Center
Our Parts Center works closely with our dedicated Service Center, so you know that when you bring in an auto repair, you're getting the highest quality possible. We only use authentic Ford auto parts in our Ford repairs, one of the many reasons our customers prefer our Jacksboro Service Center over non-branded ones. Our Service Center, near Graham, also works hard to give you a fun, speedy experience that doesn't contain the stress that car repairs usually do.
Buy a New Ford Vehicle
If you're looking for a brand-new Ford car, truck, or SUV near Henrietta, then stop by our Ford dealership for a test drive. Our sales professionals give you a friendly, low-pressure environment so you can take your time and make the decision that works for you. We are one of the Jacksboro area's premier new Ford dealership, so don't hesitate to come down and see what everyone loves about us.