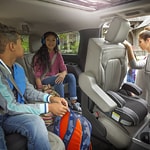 The Ford Expedition is a popular full-size SUV that has an upscale interior design. You'll feel like you're driving a luxury vehicle while having enough seating for eight people. It has a roomy feel, so no one feels cramped. You can test drive this Ford SUV at Four Stars Ford in Jacksboro, TX.
The front seats are ventilated and trimmed in leather. They can also be heated during the cold season for extra comfort. The second-row seats are adjustable by tipping and sliding, and the third-row seats feature power reclining for improved comfort. A leather-wrapped steering wheel and wood-grain applique accents assist in creating an upscale interior design. The steering wheel also has a heating feature to ensure your hands are always warm while driving.
We love that the Ford Expedition has plenty of legroom for all occupants and adjustable seats. It doesn't sacrifice comfort for style either. The SUV features leather throughout its interior design. It's a great vehicle for people who like luxurious features and need more seating space than a sedan offers.