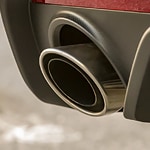 The Ford Mustang has always been a popular choice when it comes to affordable performance. Now, the Mustang is stepping things up with more advanced performance features than ever. Take a look at what's available on today's Mustang.
When it comes to sports car power, you want to make sure you also have incredible control. That's why the Mustang features the largest brake rotors ever featured on a production car in the Shelby GT500 model. This makes one of the fastest Mustangs ever built also one of the safest.
To ensure that you have complete control over the sound of your Ford Mustang, you can use the Quite Start mode features to keep the sound down during certain startups. This allows you to keep a low volume when around the neighborhood or other places when the roar of your Mustang's engine is not needed.